I See Ewe'r new T-shirt!
To celebrate Sock Summit AND the the new sock yarn lines Mama Llama has added a few mascots for the occasions.
They will be permanent fixtures of the yarn lines and these t-shirts will be sold from now until Aug.
For anyone who purchases a T-shirt, their name will be put in a hat for a drawing at the end of Sock Summit for some fabulous prizes of yarn, stitch markers, patterns and other cool stuff.
If you will be attending the Sock Summit you can wear your t-shirt and if I see you in your shirt you will receive 10% off your purchase at the Mama Llama Booth.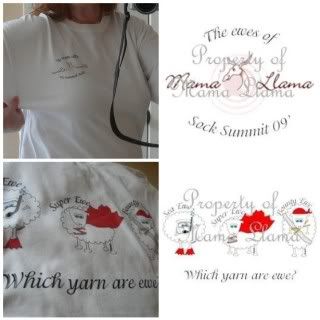 Can you tell I'm excited?
Cost: $24
(shirt is $22 , shipping for U.S. $2)
The first 8 T-shirts sold come with a glow-in-the-dark sheep stitch marker!
Sizes available:
Small - 36 inches
Medium - 40 inches
Large - 44 inches (I have a 38 bust and wear comfortably, but not too big)
XLarge - 48 inches
2Xlarge - 52 inches
Don't use paypal? Please send me an email to MamaLlamaKnits@hotmail.com an you can pay with Check or Credit Card. Thank you ;)