Almost done! Yarn Yarn Yarn:)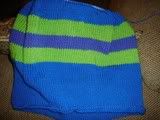 The felted bag has about 4 more hours of love and labor then it needs to be felted:)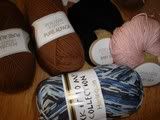 This is the yarn i got from Elann.com. I couldn't wait to get it. now i can't wait to finish bag to get started on other projects.
i still need to order my DH's Noro Iro for his hat:) He is soooo excited! he keeps asking when I will make it!
I am going to start a tank top for my twin sis, pretty soon. still looking for the perfect yarn and pattern!