SP Strikes!
What a wonderful day to get a package! I think I am in love with my Secret Pal....She sent me really great stuff and I feel so pampered! Read what she wrote on the package, before I opened it...I did shake it and it made the cutest noise!


I love these stitch markers! They were the ones making that noise! The charms are locks and keys, secrets!!!!


She made me a punk CD how cool is that! I love it, put it in the player right away!!!Some great bands.. THANK YOU...Very thoughtful:)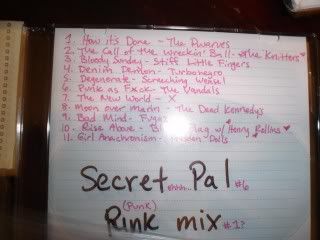 I love things that smell good and I perfer earth scents, she knew it! The green is melon, and the blue is rain....And I have wanted that latern moon sheep measuring tape for so long, but never coughed up the money for it..Thank you, I have named him Marvin!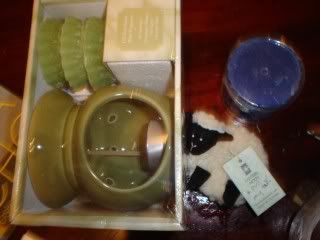 I have always wanted this little sheep gauge, but never got it for myself...HA, its all mine..Look I told her the kids were Dora junkies, but she guessed right with the bubbles..perfect, the kiddos love'em....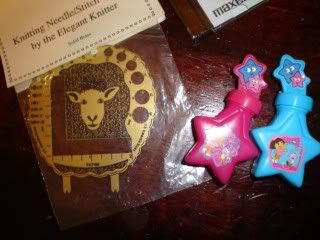 What is this? It's a sucky picture but she sent 6 skiens of Alpaca Cloud!!!! WOO HOO! Me so happy! I think I have her hooked on knitpicks.com



Here is a picture of everything, just incase i forgot something... We can't forget the Viva Poncho book! I really wanted that, and she sent it to me! And I love knitting note cards, I never know where to find them!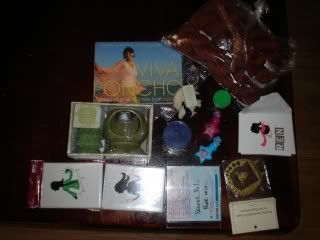 Finally here is the card she sent me and here is my first clue to her identity. It was really neat to open the card and have those little letters fall at my feet, made it mysterious! can anyone help decifer?


Knitting News: There was a cool front that came through and made it to 60 degrees outside, yeah! Of course this was the first time I could wear my wool socks! And I wore'em!!! I got the roving in for my secret pal and i gotta tell you a lbs. of that stuff is huge! She will be a very happy lady...She should have received her first package from me today, can't wait to hear from her:)
Have a happy weekend! I know mine is off to a great start...