Desperation!
Okay I have been in the stashalong how long? I'm cracking!!!!!
I really want to make this from Last Minute Knitted Gifts
, but I only have 2 skeins of Manos.... Lolly, as you saw before, made her hubby Kris this cardigan using handpaintedyarns.com... I am game for any solid color handspund bulky wool that would match my manos. SO, I have a trade up for anyone who is interested:
I have
Jeager Trinity
, and lots of it... I will trade 6 balls of Trinity (thats 1,200 yds)
you can make something from here?
some
, and 2 skeins of artyarns ultramerino4
(382 yds)......
for
Handpaintedyarns.com, Lambs pride bulky, or unwanted manos that might be lurking in your stash or even if you have to purchase it to make the trade, thats okay... I'm not spending money so it's okay! :) I need 1,000 yards... Anybody up for that trade ;) Please contact me ASAP :)If you need an extra ball or two of Trinity for a specific project than I can give that to you instead of the sock yarn.
---
Onto projects! Look at these! Man they are huge, When felted they still will be gigantic too :) They are for Chris for fathers day. I ordered the soles from
here
she is a really nice lady.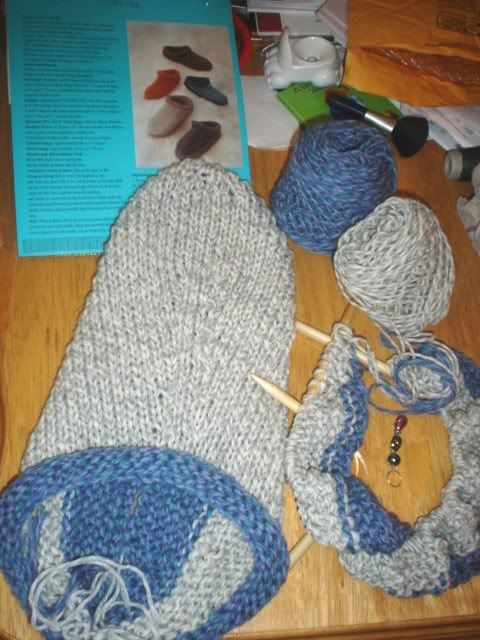 ---
Look what I got from
Keri!
She was working on the
Habu Textiles Sling Bag
and sent me her leftovers... I was so happy to get the oppurtunity to work with this yarn for free! Thanks Keri ;) I hope I have enough for to make
Topi
?
---
I was so busy making stitch markers for an order to Kpixie I didn't get to read blogs last week :( Here are some photos of a few that I did. I sent enough to restock what they had. yea!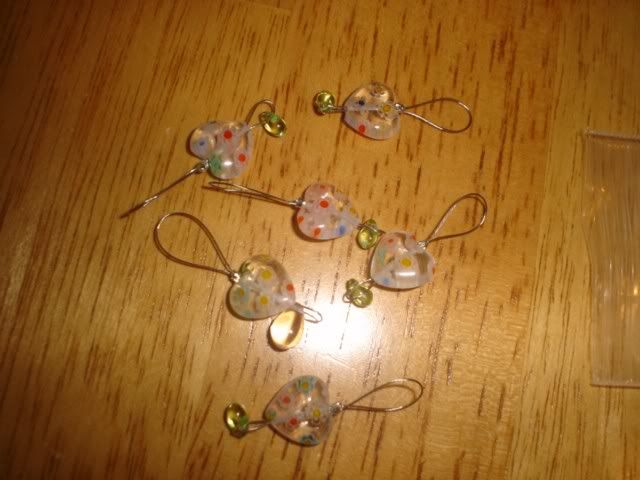 ---
I saw something interesting on 60 mins. The plan B pill! WOW! There are a lot of people in this country with very strong opinions... I wonder whats going to come of this?