Finished the bag!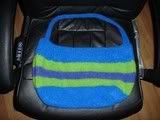 I finished the bag today, pic doesn't do it justice! I feel great i got it done in 17 days! It didn't come out as i expected but i still like it and will get good use out of it. next bag i will make a few motifications.
Now on to my next project:) Went to a new yarn shop and had a good time! I have met a few people that have knit and stitch near me on thursday so i am gonna go. I started working on my cable irish hiking scarf. I am new to cable and thought this would be the perfect intro:) I know this WIP will go by quickly so i can start DS's neat hat i have planned. think I might throw in some cabling on that sucker too:)
I visit all these great blogs and they are so advanced! these mighty women pop out garments in a matters of weeks it seems:) can't wait until i get that good.