New Things:)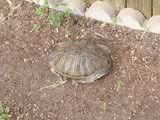 I understand this is a knitting blog but I had to post a pic of Tommy the Turtle. Yes a turtle has adopted our family. He is almost the size of a hub cap and LOVES our backyard!
This is the begginings of the hat. I put a ton of stitches on it, lost count! I think once it is finished it may be big enough for DH! It is skt st so it rolls. using Sz 3 16' circs and sock it to me sock yarn.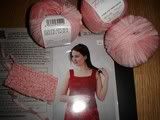 Goodies in the mail. This is from Elann.com. I didn't really expect it to be ribbon yarn but I think I like it. This is the pattern of the tank top, better pic below.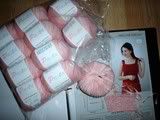 Lots of balls for this project. I made a swatch to check gauge. It knitted up well but looks more casual that I had hoped. I stopped and made a smaller swatch b/c I may make a ribbed sample instead to check gauge. As you can tell I am not totally sold on this yarn for this project!
Close-up of the swatch do you like it?