Good Things are Happening!
So I was dared to flash my stash.. Presenting some of my Sock Yarn......We have Sokatta, Knitpics,Sunshine yarns,Koigu, and Socks that Rock....oh and I am going to frog that stripped hat to make socks out of it:)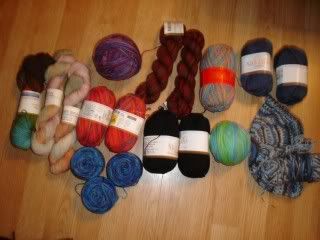 Here is a peak at a few others...Plymouth encore, and cotton (green), lambs pride at the bottom, and of course cotton ease:) I decided not to put it all out there, I was cleaning out the stash to organize for christmas gifts.. I had better be getting yarn for christmas, these people are wiping me out!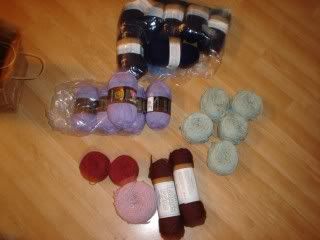 Little eye candy for ya! Brandon is growing so fast, look at all of those teeth! He owns many words now and uses them. Thats my big boy 16 months.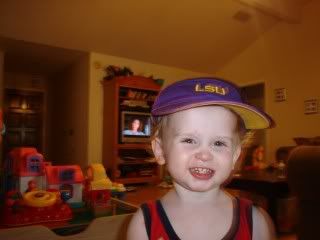 I went to knitting group and had a ball! Brynne was there knitting a sock and I hadn't noticed she was doing short rows until I was leaving!! We sat next to each other all night long:) I have always been interested in short rows for heels and toes..She sent me a formula when she got home that night, with a pattern to boot! After reading it carefully I freaked out and wrote her for HELP!!! I decided to do what I always do and just jump in by myself.. it is the best way to learn! so I was up all night and look what i did: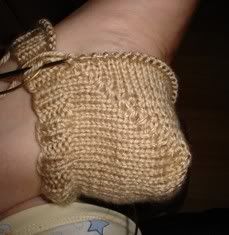 I admit it is really "newbie" work but I got through it and it can only get better from here right? I will have plenty of practice with the toe before i start the second sock... BTW I used sport wieght baby yarn.
I got my package in from my needle pal Stacey from Sheep in the City and I got some bamboo circs, my favorite:) I got another surprise in the mail too. My niece Virginia from Virgie Sews made stitch markers for me..Wasn't that sweet? She is always doing nice things for me...I need to pamper her!!!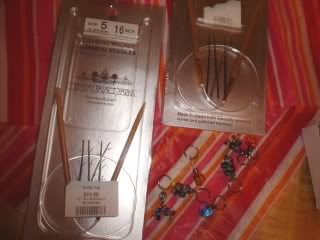 And I leave you with Hillard! He will be 5 in Dec. He went for some testing for a study he is in for autistics.. that was such a bad day for him, I don't think we can ever go to that side of Houston again, he would start screaming! He is the living map.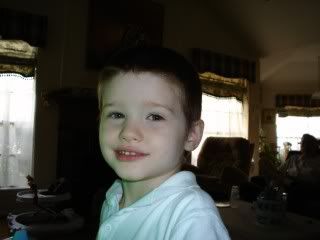 Our Air Cond. is broken and we are sweating away here!! It is still hot in H town and this is the second time this month the AC is out!!!! go check out Starknits... she is having a sort of knitter and crocheter's wieght loss challenge! I joined, it should be fun. hmmm, I am sure I will think of something else I want to say after I post! And thanks guys for all of your comments about the hat and booties it meant a lot to me..And thanks for putting up with the typo's, I always have a ton of them!