Lace, Yarn, Shawls Oh My!
Here it is! This scarf is for my scarf pla...I am so excited b/c I used lace pattern repeats from my new book to create something a little original! I am using llavod's silky wook and it is nice stuff. I like working with it...It slides a lot on my aluminim needles, but lets face it everything slide on those puppies!
I went to a yarn sale at my LYS and picked up some DK weight yarn in pink. Whats that I see? Socks that rock from Blue Moom Fiber Arts! Yep! My friend Martha went to Chicago for Christmas and made sure to make a trip to "The Fold".... Here is Farmhous and Watermelon Tormiline. My sister found a good find on ebay, Noro angora yarn called silver thaw, very pretty!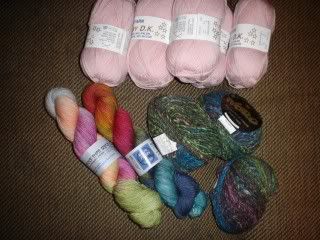 Here it is! what ya'll have been waiting on the Sequined Shawl... It was suppose to be the desire poncho fron Viva Poncho, but didn't have the yardage so i folded the corners and made a big shrug/shawl thingy... The important thing is carm loves it :)
I had a great pal for the ornamental exchange! I haven't formerly thanked her yet...sorry! she is
http://noeysmommyknits.blogspot.com
... she sent the boys gifts too, and the package came on christmas eve! We waited until christmas moring to open the nice wrapped gifts! THANK YOU!!!!!! These are such cute christmas balls!
Well folks I am officially back on the internet. I spent about 2 hours checking blogs and catching up! So hopefully everything is back to normal :)