Lately
I have been working on those secret socks FOREVER! I have never had one sock come out smaller than the other before because of gauge issues... I guess there is a first time for everything ;) I was below the heel gusset when I discovered that it wasn't wearable and ripped the entire thing!!!! I am back to the heel flap once again.. Luckily, I am right on my gauge and forsee no problems!
To entertain my self I decided to work on a simple shawl pattern and got straight to work! I realized in the middle of it that my "creativity" was looking a little bad. And I should have used a life line! You can see where the problem is in this picture below.. The bottom middle! yep! stitcks out like a sore thumb, don't know what I was thinking!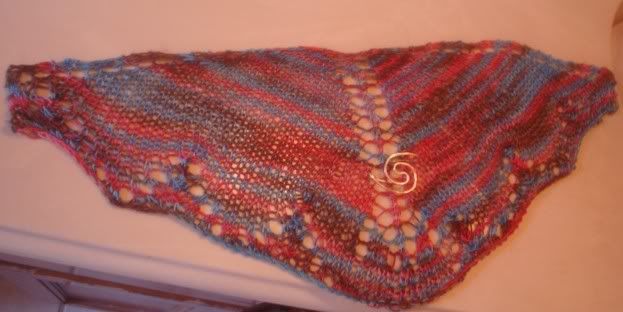 I like the little peaks I had going on there, very cute! I just ended the project and decided to block it and wear it as a kercheif.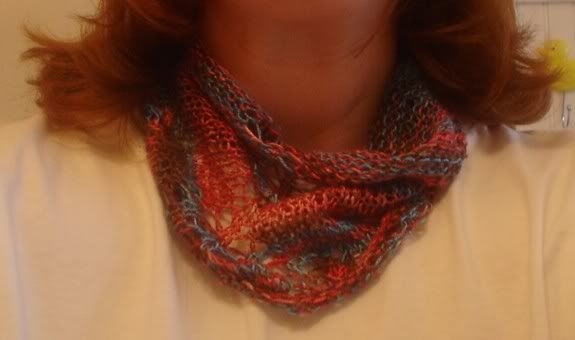 The pattern is written (and corrected) with eyelet rows and the peak pattern alternated through out. In my minds eye it looks absolutely adorable! I will just have to try again... And no verigated yarn this time.
---
I have a new product coming out through the Mama Llama line... It's a lace Knitters Kit and here is a sneak peek!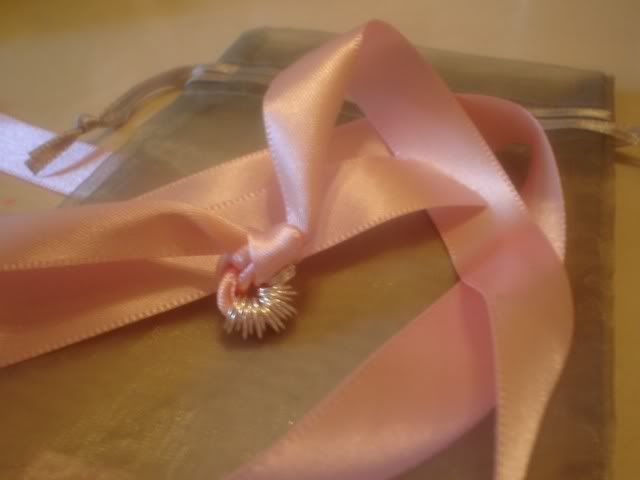 Yep, those would be many (20) sterling silver anti-tarnish stitchmarkers, and they are sitting on their organza bag... Whats missing? The row counting braclet that comes in the kit! I also have a VERY BASIC triangle shawl pattern that comes included in the kit. I have no clue when these will be available, but I will keep you updated :)
---
Keri
was kind enough to test knit a tote bag I designed, she is mailing it to me now, but here is sneak peek!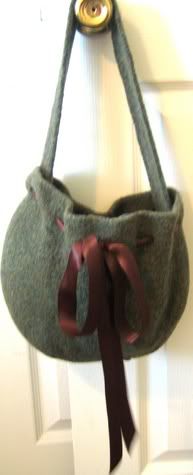 Angelika is test knitting the larger one now. I should have the pattern on the side bar soon, Keri is sending me her notes this week.....
---
You remeber last post Hillard was spelling? My husband put him on the computer in MS Word, he loved it just look at him spelling away! We have got to get this kid some sort of software!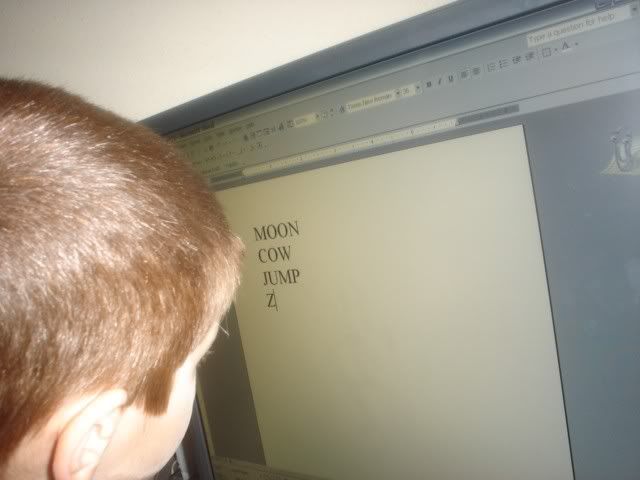 I am going through withdrawl! My
Big Bud Jenn
is on vacation in MT with her family... We talk several times a day and I'm missing it! We talk about the sillest things too, but we are both SAHM's so we keep each other entertained..... Too bad she lives over 1500 miles away ;) We both have unlimited long distance! COME HOME JENN!
Ya'll take care! Hillard starts school this Thursday YEY!!!!!