Great Weekend!
Hello everyone! I had a great weekend b/c I was invited to join Random Acts Of Kindness (RAOK)! Alright! I was so happy to get the invite, I joined ASAP. I have been working on getting my blog up-to-date that my WIP have suffered. I am getting angry with my scarf. Some of the stitches are very loose and look crooked! It is driving me insane and I am beginning to thing I don't know what the heck I am doing!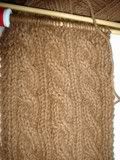 See that loose stitch in the middle cable! aughhhhh. I have tried to fix it several times but no dice. Some of the cables come out peeeerfect, but others look absolutely horrible!


I am very happy with this hat. It is coming along very well but it continues to roll!!! I will start the cute tank top when my needles get here.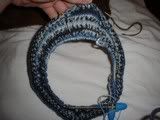 I need to start serching for my first RAOK. This is going to be so much fun. Wish me luck:)