So much in store!
Socktoberfest is alive and well in my home:) I have my first short row sock on the right...a beautiful heel just turned on the left and a cuff for a black sock on the needles in the middle. I am very hopeful that this time next week these will befinished and their partners ready to begin! If the socks look big thats okay, none of them are for me!!!!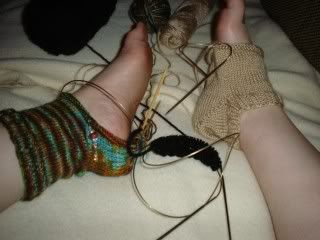 Here is ahot of them without the swollen feet inside of them:)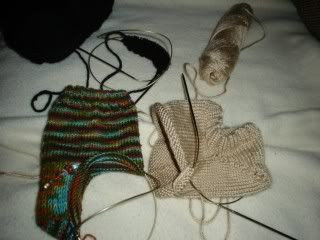 Well, I tried to hold off on getting Brandons hair cut, but it was getting to darn long :( so here he is being bribed with a lolly not to run out of the door after it was over! Does he look handsome? When we got home Chris was really anxious to get a look at him, Chris said you can hardly tell. He' s right! Just the curls are gone..

FO! FO! This is Airy Scarf after blocking...Mucho better! Blocking makes such a difference! This scarf is for my Mother-in-law.. Her b-day is the 22nd and I wanted to make something for her. Iused my wonderful Lornas Laces Heaven and did random eyelet rows, just thought it would look neat that way. She doesn't read my blog so I can post this before I wrap it up!

I am starting aproject for myself this week...Birch Shawl by Rowan. My friend Wendy from Catknits sent me this kidsilk haze to do it! It was a total surprise, and much welcomed b/c I had a rough day the day it arrived in the mailbox :) Thanks Wendy!


This is a pic of the one she recently finished.. I love it and it is what prompted me to get info from her and surprise yarn! All I have to do now is find the time and courage this week to cast on 299 stitches!!!! eek..wish me luck:)



I am up really late at night b/c I woke up sweating and pukey.. Why does the heat make you fell like that? Our AC is out and has been for the past weekend.. The AC guy came today but I missed him. Why do you ask? what could be so important that I miss the AC guy? Knitting group of course! I wish I had pics but it was Brynne, Amy, and Sarah's b-days this week so we and Jenni all got together at a local mexican resturant.. all of our kids are around the same age so we had a blast.. Sarah, Amy, and I had margaritas too, yummy! HAPPY BIRTHDAY LADIES!
Exciting news! Houstonians had a chance to sign up for a "lottery" to purchase World Series tickets... Guess who won? Yep.. We got to purchase 4 tickets to the 4th game of the World Series..By the time I made it online to ticket master there was only standing room available, so I got 4 tickets anyway...Chris thinks he wants to sell them, so we probably will:)

see you in the funny pages:)