Has it been over a week?
Where has the time gone? I have been working on
Boogie
and Picovoli so much that I have lost track of time :) I have been blogging too..Where? you might ask... I have set up a
shawl blog
for everyone who loves shawls! Please check it out and join if you have ever made a shawl, plan to make a shawl, or just like looking at them! I know a few of you personally that have some shawls to show off, so join and begin posting!
I have also started sign ups for a third needle exchange! please go
here
to check it out and sign up... You can also find links to these blogs on the right hand side tool bar.
I am so excited
sockapolooza
starts again next Tuesday! I can't wait to sign up...I wasn't in the last two, but am excited to join the third one!
My new look is still in the works and I hope to be unveiling it this week!
I promise a FO and some great pics of WIP's in the next post. I have an idea of the things I want to accomplish this year ... here are some ideas... the first two were added thanks to the knitting nyxxie!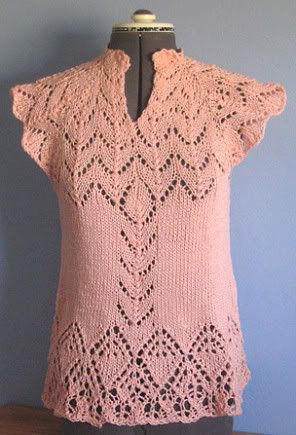 Chevron Rib Tank
....was suppose to do that last summer!
and...all the stuff you see to the right! think I can do it? HA! yeah right!
Of course I have to use the Socks that Rock yarn I just got ;)
Take it easy everyone!