Projects, and Fun Stuff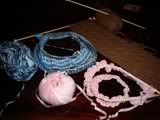 Here are the current WIP's!!!! There is the fair isle hat, the scarf, and i have started the tank for my sister.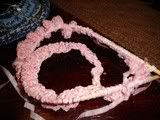 Close up of the tank. There are 290 stitches on this sucker and counting them was a hassle. I have discovered that ribbon yarn stitches like to hide under each other! the first 2 rounds were tough but now that i am in the middle of the fifth it is smooth sailing from here:)


I love how this sock yarn has turned out for DH's hat. Remember this was suppose to be for DS but I put way too many stictches ha ha ha!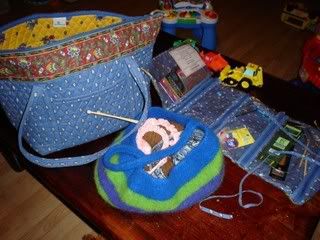 Goddies, Goodies, Goodies! See the felted bag?(March archive) the other two bags were given to me by a good friend this weekend and I couldn't wait to use them. My friend's mom passed away late last year and I helped her pack up her moms stuff this weekend. I was uncomfortable at first( I really liked her mom a lot) but after the first few minutes it got easier. I ended up leaving with 3 or 4 bags full of great stuff. I also got 2 knitting books as well. Bob the Builder toys belong to children not me. Although you can always find them in my bags:)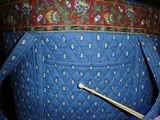 Close up of a Vera Bradley bag. Lots of pockets inside and really spacey for yarn and macthing tote.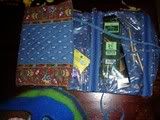 Hanging travel make up case, now is a needle and notion tote:)
Sara, thanks for letting me be apart of your weekend and I have already made great use of the bags, clothes, shoes, books, hair dryer, and the rest:)