Richmond Meetup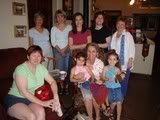 Here is the group! I have a great time at my knitting group but i never seem to get any knitting done:) I bring a 10 mo. old and 6 mo. old with me! I do have the best time talking with people that have my same interests and I love to see the projects they are working on. My projects are coming along okay,slowly but surely. Almost to the half way point with them both. I am really enjoying meeting people from RAOK. Hi ya'll!
Stole a quiz! What John Hughes character would you be?
You are Clark Griswold (from National Lampoon's
Vacation)! You're full of optimism and
boundless energy, and no one loves a good
family trip more. No one else can swear a blue
streak like you either, Sparky!
Which John Hughes Character Are You?
brought to you by
Quizilla