I am back with the GOODS!
I had such a GREAT TIME!!!!! Jen and I hit the yarn shops in a big way. We went to Filati in Rocklin CA, A Room Full of Yarn in Greenville CA, The wool Room in Quincy CA, and last but not at all least JIMMY BEANS WOOL in Truckee CA. I got to see CA again and the mountains were beautiful. It snowed the last night I visited and there was a lot of snow to be seen in Truckee. Well, I built the stash pretty good:) Just wish I had some more money for the other stuff I saw in the sale bins too!!!! There is some Koigu in this pick that Jen's mom purchased for me, that is going to make the Clapotis! With out further ado;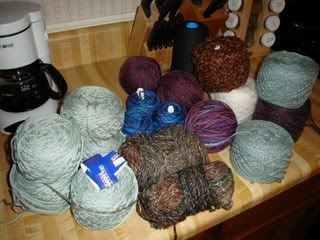 This is Noro for my hubby's long awaited skull cap:) it is soooo pretty! excuse me "manly"!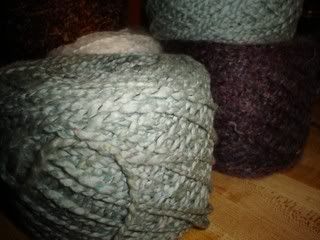 This lovely stuff came in 400 yd hanks for 5 bucks cheap!!!!!! this is for Cozy.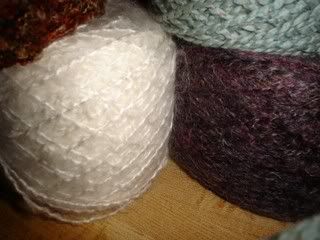 this purple and white faux mohair came in 375 yd hankd for 3 dollars on sale!


I know this looks like shag carpeting, but it is really luxious in person, also 3 dollars for 375 yds.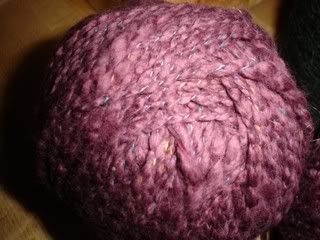 This wonderful stuff is a deep puple and I plan to make a tank top out of it. also, 400 yds on sale for 3 dollars (got two hanks)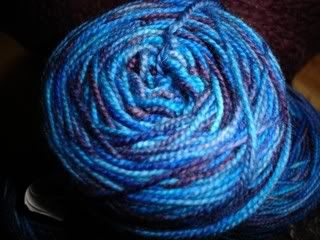 My yummy Koigu compliments of Alice, Jen's mom! This is what you get when you bring crawfish to them:) I think I made out like a bandit!!! Thanks Alice. This will become the Clapotis of my drema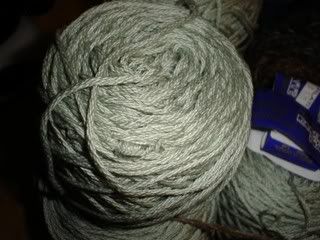 I got 5 balls of this stuff to make the ChevronRib Tank from Interweave Knits. It calls for Blue Sky organic cotton, but that is a liitle pricey for my taste:)
I finally casted on my cotton-ease for my sisters Tempting, shouldn't be long now!
I will post my vacation pics soon!
I need to get back in the swing of things, Chris replaced me all to well the past week!