Great days!!!!

Tonight my hubby went on a dinner date with his classmates so I ordered in! Here is a pic of my twin sister and me sucking the heads of crawfish! yummy, our favorite:) gotta enjoy'em before they go outta season.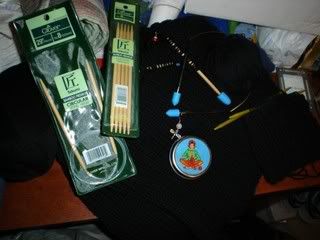 I ordered the rest of the stuff that I need to finish tempting. I know what ya'll are thinking"when the heck is she gonna finish that thing!!!!!!! Notice the hand balm, this stuff is the BEST.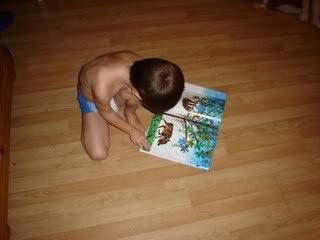 What is he reading??????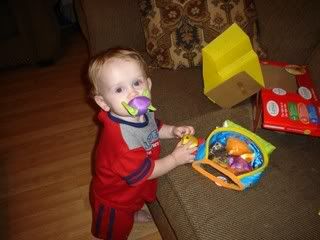 Why is this in his mouth??????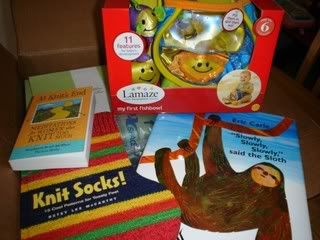 Where did these goodie come from?????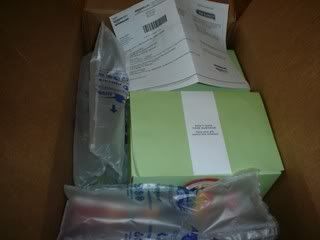 OHHHHH!! All gifted up is it from my SP??? Nope, it was a RAOK!!!! Jennifer that little vixen looked up my wish list on amazon and got stuff for the kids and me!!!! I got two books: "knit socks" and "At Knits End". the kids got "Slowly slowly slowly said the Sloth" and a lamaze fish bowl toy! As you can see they really enjoyed their gifts right away, didn't get pics of them opening the gift wrap:( Thanks Jennifer, I owe ya a million!!!!


This is a button I made for my niece Virginia who just started her own blog today. She sews. Virginia saw how many friends I have made blogging so she decided to join in! here is a link to her blog. click her please:) I am editing my post b/c I forgot to mention that she surprised mr with "Last Minute Knitted Gifts" on Monday. Once again that amazon wish list comes in handy
I joined two swaps this week. Keychain swap and stitch marker swap. I have a lot of swaps to do, including my own Gimme Some Needles Exchange.What can i say I LOVE 'EM!