Packages Rock!
Wouldn't you know as soon as I write that nothing much is happening, the mailman leaves me treats! I had to take some pics and share with ya'll!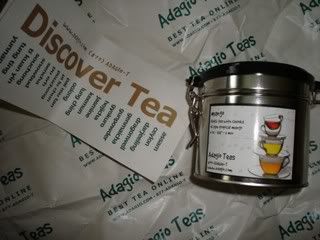 I got a 5 dollar gift cert. from Lu, for a RAOK. This is what I bought. Mango tea. I thought it wou;d be smaller but the canister is good size with tea filled to the brim. When I picked up the box it was in you could smell the tea!!!!!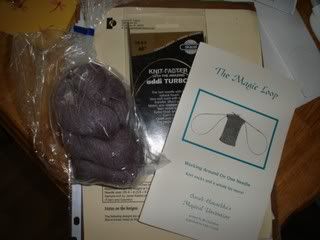 These are my goodies from KnitPicks.com. I will teach myself the magic loop and i got a Sz 3 Addi 40" to cast on to. The lace weight alpaca is absolutely wonderful and below is the pattern for lace scarves.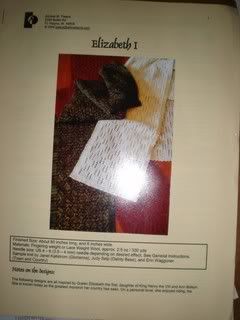 This is the Elizabeth I scarf pamphlet. There are directions for 3 diffrent scarves. They are all very beautiful.


When I looked in my mailbox there was a package from my Bead It Two pal Michelle! The card and stitch markers match. They are so pretty, I couldn't have asked for a better person to receive markers from.
Hillard is a little better. I think he is gonna get over this little bug really soon. If he has a relapse, the doc will give us some Zophran. Hope noone else gets this, it is nasty!
I am so excited my stuff is selling on ebay, I was always an ebay junkie!