Secret Pal strikes without warning:)
First order of business, the first sleeve of tempting! like it? I had to frog it!!!!!!!! I read the pattern wrong, and had too few stitches on my needle. I really didn't mind having to do it again though, whats wrong with me? Notice the cute stitch marker that i got from my bead it pal Michelle?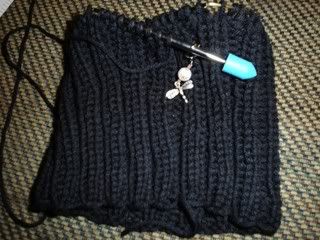 Here it is my first package from my first Secret Pal ever!!! I said in my questionaire that I always wanted to try spinning. Here is my chance. My SP is an avid sock knitter and a Spinner as well. She sent me the "Spin It" book, roving (non-dyed) , and a handspindle that she made herself. I have to say I love this and the handspindle is perfect! I have yet to actually try it out but it has good weight and balance for me. She mentioned in her note that she didn't know if I was interested in dying and the answer is YES!!!!!! I want to order some of that sock yarn from knit picks and give dying a try:) Maybe I will just dye this yarn that Ispin?


Date night was great, and we came home early to knit, watch a movie,and play computer games. You can figure out who did what:) I think Chris loves the fact that I found such a gratifying hobby that is also very time consuming; so he can play all the video games he wants and I don't get mad or lonely. Actually he sometimes asks me to drop the needles and talk to him more:)!!!!!!!