Reliving History
Today Chris and I will be reliving history. We got married 5 yrs. ago today in the MGM Grand Las Vegas. This is how it all started!
LSU 1996 I was dating a guy who lived in the same dorm as Chris, we all became friends, and I became really good friends with Chris when a bunch of guys got an aprtment together (including my boyfriend). Chris' girlfriend at the time was a close friend as well. Things happened, relationships fell apart, but Chris and I still remained friends. A long stretch went by after my boyfriend and I broke up, Chris decided to finally ask me out. Things moved very quickly b/c we were such good friends in the first place. We did worry about our friendship, we took a chance. We started dating in July 1999 and were engaged by Nov. moved in together in Feb.2000 married June 17, 2000 and had our first child Dec. 2000. We are the happiest people alive and I thank my lucky stars that I married my best friend:)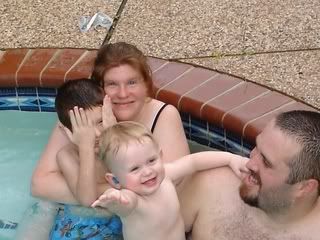 Knitting notes:) I started the first sleeve for my tempting and had to frog it 3 or 4 times. I didn't concentrate and made fatal errors each time! I finally got it going and it is coming along nicely!!! I got some beautiful Regia sock yarn from Caitlyn as a RAOK. I was so excited when I opened my mail box!!! I will post pics of it next time. everyone take it easy this weekend. Happy Fathers day!