I am the Game and I ain't Playin'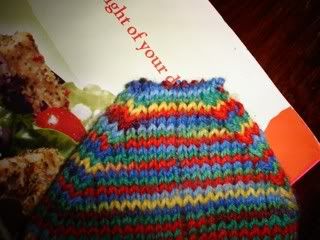 Okay so my "grafting" "kinitcher" stitch isn't perrrrfect, but I have to pat myself on the back! this is the bottom of the foot so ya'll can get a closer look of my ladders and botched grafting style:)


And here it is upclose and personal my FIRST SOCK! I am so excited, I could pee.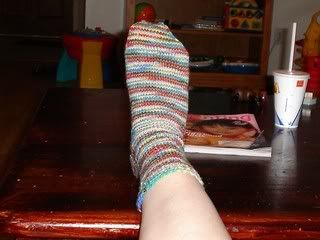 Front view of my lovely foot, posing my parents single sock! I really enjoyed doing this and I think socks are my favorite. I like hats too. Well, I like everything, but socks are really great projects.
I can't wait to finish my sisters Tempting now. I told myself that I would finish my parents other sock when I finish that project for her. I better get busy. On a side note has everyone seen those "Vonage" commercials? You know the one when people do the stupid things and they play that nifty little tune:) For some reason that commercial cracks me up. I think that was put on television for my entertainment. Sorry I just had to tell everyone that, who would of thought that I like slap stick comedy so much. By the way Chris Farley was the man! Jim Carrey is hilarious too ( I like him alot).
Who can tell me what my title of this entry means? Anyone?
I am in a good mood, got my SP5 assignment!