I Saw a UFO!!!!!!!
SP5 Questions are Answered, Please Click link on right. Below the cute "I love Wool" Picture
Or Click this link
SP5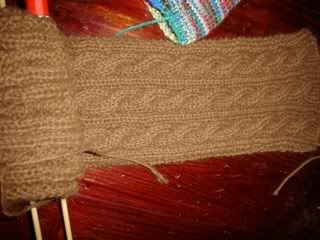 Here is the Irish Hiking scarf that I haven't touched since I started my sock and Tempting. It is very pretty and I think I will be done sometime before turning colder:)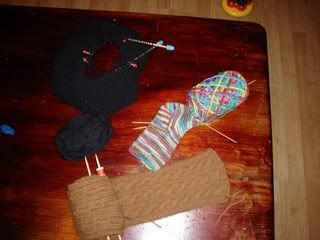 Here are my current projects a.k.a UFO's! the Sock, the Scarf and Tempting.


Close up of the sock, i plan to teach myself the Magic Loop and I ordered the directions from knitpicks.com



This is a really tiny picture of me infront of Jimmy Beans Wool in Trukee, CA. Jenn and I went when I visited her last month. She has the bigger pic!



Here is Tempting. I have gone atleast an inch since yeaterday and I am very excited to finish so I can send in my Picture to knitty for their 2006 clendar contest.
I have joined SP5 and I am awaiting my secret pal assignment! I really need to post my interest and such to my blog so my SP can get to know a little more about me. Here are a few things: I like any yarn except Red Heart and yarns similar to it. I love anything llama (they are super cute). I do some beading (I am in Bead it Two). I like teas, coffee, lavendar. I could use some pattern books for kids and accessories. Feel free to get me used items it will not offend me:) I really like surprises, so I am very excited!
I have to admit I have been slow to read all of my daily reads lately:( I really enjoy catching up with you guys and look forward to dedicating some down time this week with ya'll! I have to sell stuff on ebay so wish me luck!