Finished!
Hey everyone I finished last night!!!!! I only went two rows after the YO's instead of five b/c I was running out of yarn, and fast too! Well, my first sweater, can you beleive it... I think it will be too big for my sister. I wonder if I was wrong on the gauge? I though I had it perfect! Before I put the temprorary tie in the top it was WAY BIG!!! But, the tie made it all better, anyone else had that prob? On me it looks like a peasent blouse =O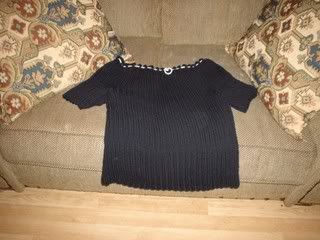 CLOSE UP!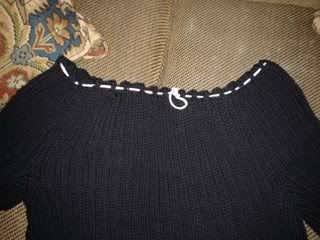 Another pic, just incase you missed the first two:)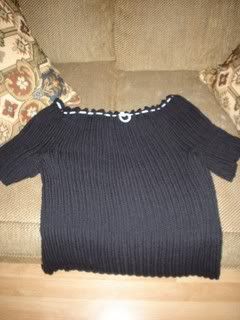 Next on my list i am finishing up the sock, the long awaited hat, and then i want to start the Hourglass sweater sometime in Aug. Laura (knitsforsanity) and I are gonna do that together, I am soooo excited! I may do the tank top fron SnB to tide me over until then..... I got some great cotton ease from Yarnmaven and I want to use it! I also have a few socks I want to start. so little time it seems!!!!! Hope everyone enjoyed their weekends.