Quick blog!
I have hardly been on the computer this week! I have been working like a mad woman on tempting for my sis and the other sock for the folks.... I am very happy to say i should be done with them no later than tuesday:) in the mean time i got a package from
Jenn.
She is going to start selling stitch markers at her local LYS, and these are samples. You may notice she made very personal markers for me, they have pics of my family on them, are they cutest are what? She is one of the most thoughtful people I have ever met. We have been such close friends for so long!!!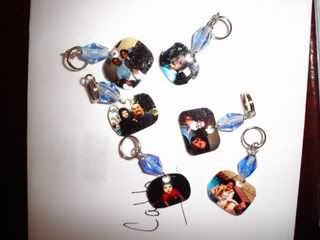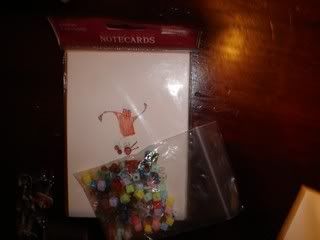 I have been aching for some knitting cards so she sent a pack. along with a lot of beads! i have made a few sets already:) I am surprising my knitting group with little gifts!
These are the samples she sent, cute huh? I wanted to post this pronto so her Jenn's mom could get a peek of the "picture stitch markers", your daughter is a whiz with shrinkie dinks!!!!