Gifties and more!
Okay so I finally started my moms hourglass sweater; go me! I am knitting with Plymouth Encore Worsted, Navy Blue...... I had to use a Sz 9 needle to get the gauge right. I am already past my first decrease because I had to wait in a lot of lines today!!! Got my car inspected, got new tires, then off to a Dr's check up for me! here are the 3 photos i snapped just a few minutes ago..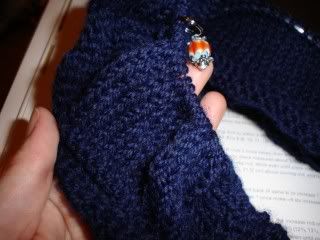 it is so dark it is kind of hard to see, trust me it's beautiful!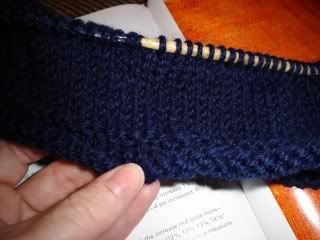 Look at that beautifully rolled edge! Me likey this pattern so far...I am so excited about it my poor kool-aid socks have been put on hold for the past 2 days:(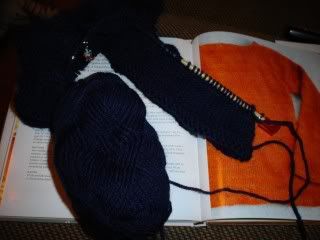 Here is a pic with the book behind it... still can't see much huh?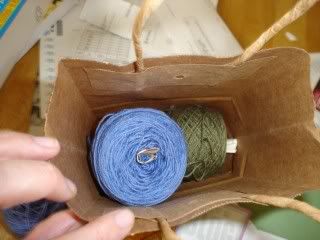 Oh my whats this? Lornas Laces shepard sock yarn? How pretty, china blue and a green.....will make beautiful lace socks for someone at christmas.....muhahahah!!!!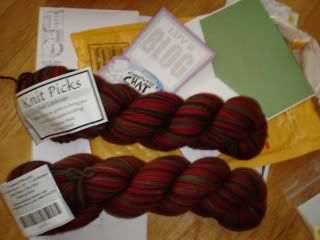 Keri sent this to me to thank me for hosting the needle exchange! wasn't that super sweet? knit picks perrrrfect.I got it on Friday along with a package from my SP5, she sent lots of goodies too, more sock yarn ladies...( i repeat) muhahaha!!!!! Just look at those stitch markers too! Thank you SP !!!!!!!!!!!!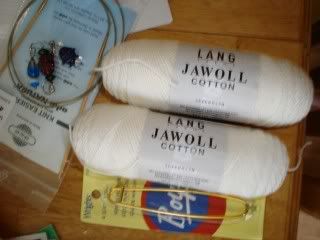 This pic sooooo doesn't do this scarf justice, it looks fab in person! I will give it to mamma for her b-day tomm. at the pool party:)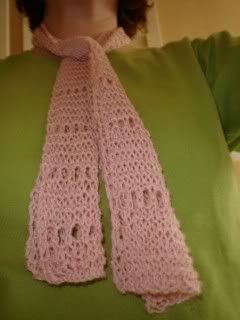 Have a good weekend ladies, more next week!