Success!
I was going absolutely CRAZY these past few days! I was casting on for my sock with magic loop method and just couldn't keep my stitches from twisting!!! Well, they say parctice makes perfect, and I am very persistant! Look what I finally accomplished today with my Kool-Aid dyed yarn! It looks so purtty all knitted up huh? I must admit I am becoming a sock-a-holic! I really enjoy this method and it goes so fast for me. Next pair I am gonna try casting on for two socks at once...EEEKKK!!!!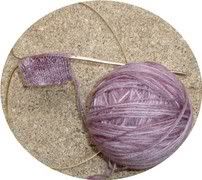 Close up:)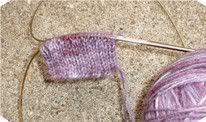 The library called for an interview! I am so excited.... Wish me luck! I have been kind of scattered brained about my projects so I added precentage bars (look right) to keep me on track! They really are for my benefit, it is a poor attempt for organization!!!! The OSW is coming along very nicely, but guess what!!?? I have ignored the fact that I don't own a pair of Sz 5 24" needles so I purchased some on ebay (seller: Supercrafty) for a very good price! $6.99! I am very hopeful they will come quickly so I can finish my OSW! Gotta tell ya'll I love this pattern and I will be making a lot more in different yarns.
Brandon is an offical walker now! yeah! he is so sweet, Hillard is amazed that he can follow him around more easily, and annoyed ;)
Thanks everyone for the great comments I have been getting! There are a lot of new people in RAOK and I am finding it hard to greet everyone, so if your a newbie to the ring-WELCOME!!!! Have a safe and good weekend!