Picture Packed!!!! and Tagged!
Hello everyone! I have finished two of my projects and decided to show them off:) First I have to thank Jennifer and Heide for the lovely gifts! Jennifer was my needles exchange pal, and I love the goodies she sent!!! Needles and yarn, who could resist? Heide sent me a Vouge Knitting mag that I won on her blog and some sock yarn from knit picks... she also sent pixie stix but they didn't last long enough to be photographed, he he he! Notice the sock yarn in each gift, these ladies know me:)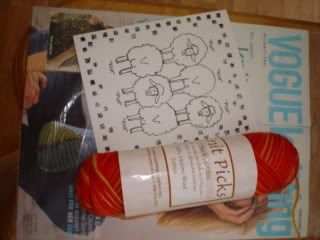 Here is Airy Scarf motified! IT HAS NOT BEEN BLOCKED!!! so it looks a little crappy, that will soon be fixed... i hope =O


Thought ya'll might want a little baby lovin' so here is Brandon!! he sat here all by hinself, it was a big challenge and he clapped! He also knows a little sign language too:) He just turned 14 mos....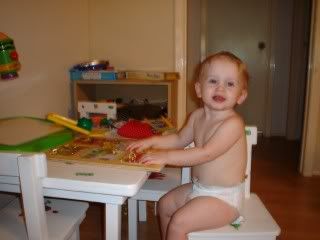 Can you see what the Big Guy is reading? Hillard is reading my InterweaveKnits !!! This is the last time I saw my magazine, he hid it somewhere in the house:)


Well, we all know that I have to start watching what I eat, my ticker could use the good judgement! So I found out No Pudge has an ice cream line... 4 grams of fiber in each dessert, and they taste devine!!!!! Isn't the pig the cutest?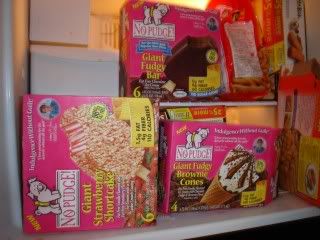 I finished another Noro hat! yeah me! only took me a day to knit it, I just avoided it for awhile:) So I am wearing my first attempt to please the DH and then I got the fit perfect and he is wearing the second attempt!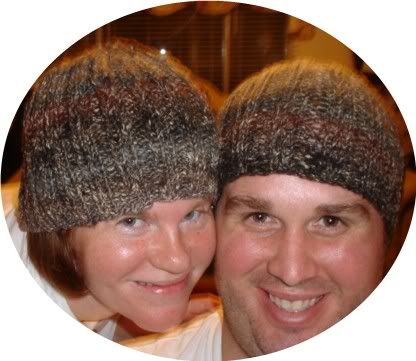 So I got tagged by Amy and it's "Idosyncrasy" what are 5 little wierd things are characteristics that best describe me?
1. I can't do two things at once... virtually impossible, Chris makes fun of me for it!
2.My food can't touch, at all!!! Sometimes I even seperate my casserole dish when I plate it.. feaky I know...always have been this way always will!! everyone makes fun of me for this one! Jenn you know who you are....
3. I am afraid of the water, large bodies of water.... but my dream house is on the beach with a big porch to look out to the ocean.....and i LOVE to sail!
4. When putting up the laundry, I go to our closet to get empty coat hangers... about 95% of the time I get the number of hangers that I need right without counting... it just feels right. psychic or just dumb luck?
5. Can't think of anything else.....but i am sure my friends can think of lots of wierdness about me:)
My husband Chris comes home and tells me he wants to go on vacation to Las Vegas! (thats where we got married) I said great! We decided on December...Called my friend Jenn And discussed this with her, of course her DH said yey, we're in, but she was more cautious so basically we maybe going to Lake Tahoe instead of Las Vegas in December then it is only a 90 min drive for them to meet us...We are still thinking about it. Chris and I really want to see her and her DH they are such good friends, lets see if we can make it happen:) Good couple friends are soooo hard to find!
have a great week!