Heaven
Hey all you guys! Well, I started knitting that Lornas laces heaven up pronto.... I am just doing a simple airy scarf to get the hang of working with this stuff. I really like how it is turning out:)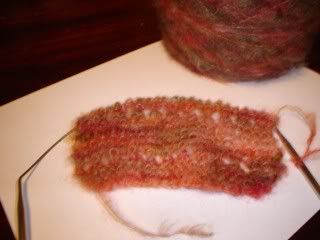 Close up!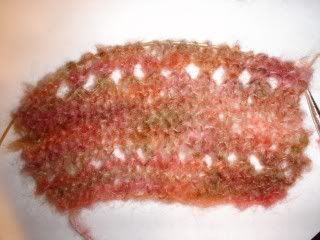 I have brought the Kool-aid sock back from the grave and i am picking up the sitiches now on the gusset! this is the part where I messed up last week and had to rip the entire thing up!!!! I really can't do two things at once, and I thought I would work on my sock and talk on the phone... I will never make that mistake again... I could have been done with my sock by now and be wearing them!!!! My first sock came out flawlwss and I don't want this one to be sore on the eyes!
I have vowed not to buy yarn until Jan. since I splurged and bought Heaven... I am regretting it! Knitpixie just had a sale on organic cotton; kicking myself!!!!!! Seems like there are a ton of things I want!!! Why is it when you start restricting yourself you want that stuff more:) Human Nature I guess?
Ohhh! I am really excited about the preemie project... I signed up way back in April and I have only been able to donate yarn... now I am making goals for myself to knit some stuff up and donate.... I think I may learn to sew since they are in desperate need for blankets. If your interested in getting involved go here.
I am very excited about the Needle Exchange II.. We have a lot of interest:) click the link to the right " Gimme some needles" to check it out... sign up ends September 9th.