Want A Cheap Thrill?
Did I get your attention?
First:
HILLARD WENT POOPY on the POTTY! He did it! he really did...We were watching him like hawks this past week and he managed a few accidents when we weren't looking... When Hillard got home from school on Friday I decided...ENOGUH, and Chris and I followed him everywhere around the house! Finally while I was at Yarntopia (see goodies below)Chris called and said, "he did it"! I nearly wrecked the car! (was driving when I was on my cell phone...*slap wrist*) Then Hillard went a few more times before bed.... Prayers have been answered, and now my sanity will be returning... Thanks you guys, We DID it! All of us ;)
---
Second:
I am knitting and reading blogs again! The cloud has lifted and the funk is drifting away... Here are Chris's LSU game day socks! I finshed them in about 4 days. He wears a size 14 shoe so I asked Dani of Sunshine Yarns to dye some Sportwieght so I wasn't knitting forever! Isn't the model cute? Notice the heels at the back of his calves... He he he! I am almost done with Brandons LSU socks... Hillard and I should have matching pairs by the end of the week!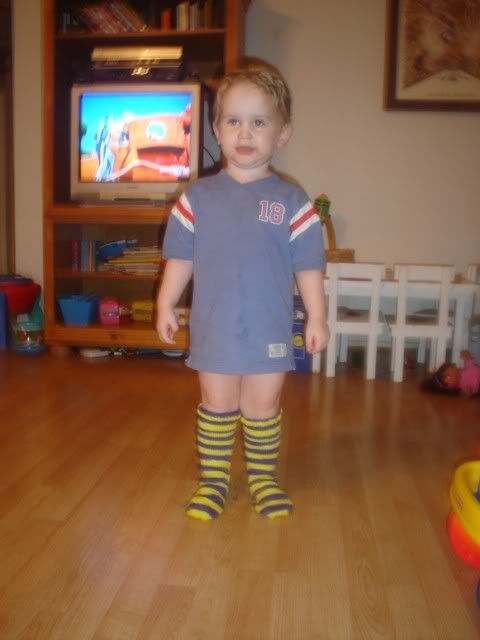 Take a moment to notice my gigantic 27 month old son. Yes you heard right... He is 27 months old, weighs 43 lbs. and is the size of your avarege 4 or 5 yr old! that shirt he's wearing is a boys size 5/6..... He grew out of his "T" clothes months ago. He can't wear diapers anymore, we put him in pull ups.... The doctor giggles everytime we go in and says "atleast he's proportionate".
---
Third:
Sorry to keep you waiting, did you really want to see the goodies from the goddesses (Amy and Cheryl) at Yarntopia? We have Malabrigo... yummy! and the colors in this pic below are very true.... This is a simple scarf I am starting.
Then we have Hill Country Yarns Sweet Feet. I am very proud to announce that I will be making the pattern for the next "Yarntopia Sock Posse" socks! I will get started this week, I already know what I am going to do, just have to make sure and write it all down as I go. I am making it very simple because I don't want to take away from the varigation in the yarn. We have our first "Yarntopia Sock Posse" sock party in two weeks, and thats when the shop announces the next project and yarn... It's sort of like a sock of the quarter KAL! I love it :) If you want to join and get in on the fun call Yarntopia and they will hook you up ;) You can buy your Hill Country Yarn Sweet Feet from them and the pattern will be availble shortly. (end of excited rant)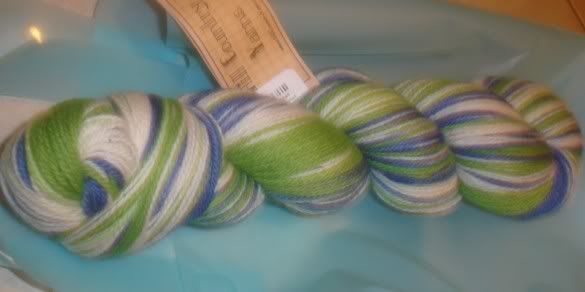 ---
Fourth:
Angelika finshed the bigger bag. Isn't it beautiful? She used 8 skeins of Knitpicks wool of the andes.... I will put the pattern link on the side bar by the end of the week! I just have to say Thanks Keri and Angelika for test knitting.. It was a lot of fun to see these to bags unfold!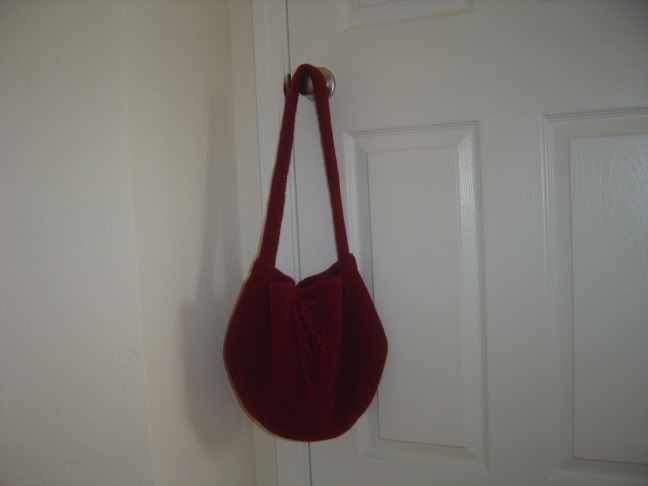 ---
Fifth:
SP8 is over and I had so much fun spoiling
Vicki...
I sent her a project in the first box, Green gables... second box was the book one skein and a bunch of different skeins to go along with it... and the third box was all about sock projects... I made a really good friend this go around!
*waving like crazy at Vicki*
by the way I am destashing over at the destash for cash blog....
So that about wraps it up for the week! y'all take care now ya hear ;)