Undyeing Love
I think I fell in love with the postal service this week! I got 4 packages! yeah! I got my last SP8 package, Lace Swap package, my undyed yarn and acid dyes, and Morehouse Farm book!
Feast your eyes on all the riches this week brought!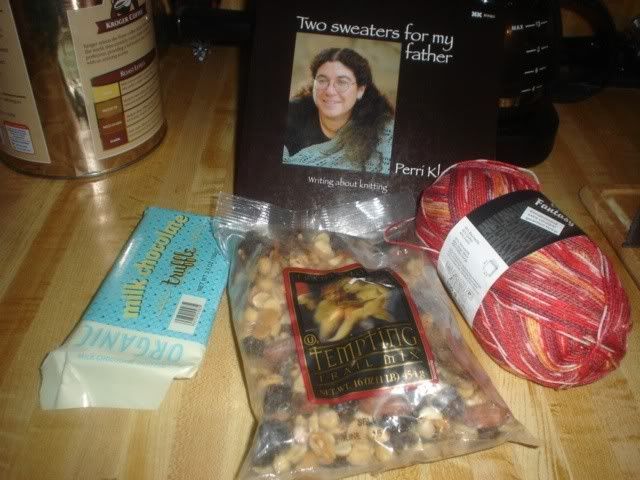 I always seem to luck out with swap pals! aren't those the best packages? Thanks
Nathania
and
Eileen
, you ladies ROCK!
---
Knitting notes:
International Scarf Exchange scarf finally started! I am doing the child's scarf in Last Minute Knitted Gifts. The Noro is super bright so I hope she is pleased with those colors ;)
Other knitting news? nope, I have been swamped with classes, kids and my new "dying project".... I have gotten 8 rows in to my Manresa project and I will begin the fair isle part of it this weekend I am sure!
---
In the pot
I like this whole dying thing I've got going on.... I don't forsee myself having the time to be as big as my two favs. (Sunshine Yarns and All things Heather), But I bet I can dye a couple of pounds a month..... I plan to have a theme each time I turn out a new batch..... This months theme is " In the Beginning" biblical I know, but it's fitting.... If all goes well, next month will be Nymphs (I'll explain it's importantance to me next month).
Yarn porn?
Brooks Farm, need I say more?
So I have been trying to keep up with blogs lately and I hope all is well with you guys ;)