We have a Winner
Okay! the winner is
Artseycrafts
.... Please email me ASAP so we can get you your yarn ;) And another winner is
Shannan
Please get back to me ASAP ;). There was such a huge response that I decided to have two winners. I will probably have another contest this week to debut my new yarns from the dye pot from this weekend so keep a look out!
WOW, what a marvelous response to my new lace and sock (fingering) yarns. And look there is more to come! Tonight after to kiddos are snug in their beds I will be dyeing up 4 more lbs! I will be doing the original 4 colorways and also I will be doing an early release of next months colors! That will give me an inventory of over 20 skeins...wooo hooo! So look out for my next post to see my new pride and joys.... The theme is Nymphs, curious yet? Here is the undyed yarn.....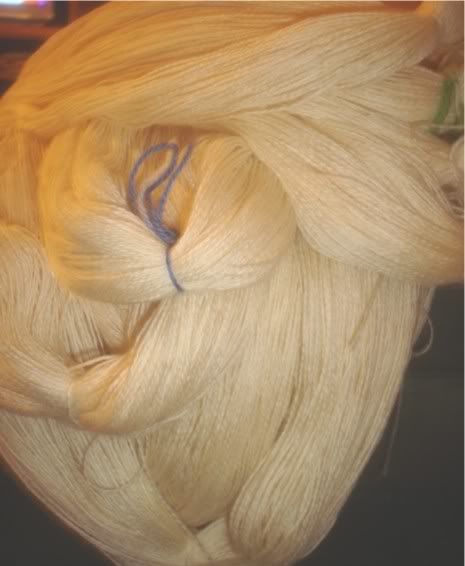 ---
The Knits
So I actually do knit, and here is my Scarf exchange Scarf.! all done! ?I just have to cast off and block, that will be a snap ;)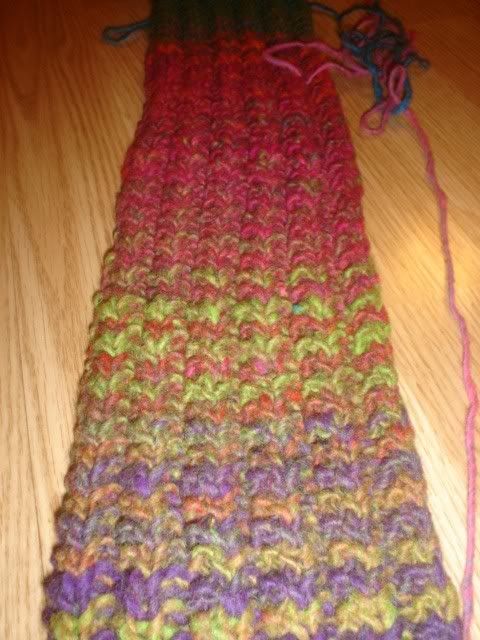 this is the "Child's Scarf" from Last Minute Knitted Gifts. I used Noro for it of course and I love the way that it's turning out.
I plan to start a pair of socks for my mother in law and a lacey scarf for myself this week, and I am kinda excited to start the new projects!
---
Too Cute
I have a brother and his name is Chuck... Brandon, my two yr old, can't make the "CH" sound so he calls him _UCK..(put an F in the blank)... It's really funny to hear him say uncle _UCK.... Kids crack me up!